Nothing provokes our senses more than a wonderful scent in the air. Everyone was stunned by a particular smell at least once in their lives and felt like they were in heaven. The scent of the people we care for, the flowers we love, or even items we connected with over time can overwhelm us even years later.
The essential oils industry relies heavily on the human's sense of smell, knowing that creating pleasing aromas will make people feel good. You can say that the essential oil industry is in the business of making people happier.
To properly diffuse the smell of essential oils, you might want a diffuser. This is a perfectly designed tool to spread the smell coming from the essential oil package and fill the room with the amazing scent. If you love using essential oils, then you need a diffuser to make the most of them.
Not all diffusers are the same, though. Some of them have great features, while others are nothing more than a waste of money. In this article, I will show you a collection of the 11 best essential oil diffusers that will rock in 2022. See what I have prepared and choose your favorite.
1. SpaRoom PureMist
We're kicking off with this simple design from SpaRoom, which some users will find as a positive thing, and others will complain that there's no excitement in it. The design truly is minimalistic, but the diffuser does its job perfectly.
It uses ultrasonic vibrated humidification, which means that there's no additional sound coming from it after your turn it on whatsoever. The container holds 100 ml of water which is enough for around a 100 square feet room. There's only one button, and all you need to do is mix the oil with the water and press it to enjoy the scent.
Features:
Simple design
Up to 100 square feet
Affordable
2. Now Ultrasonic Real Bamboo
How about this amazing product from Now Solutions made to create a true natural effect in your bathroom, bedroom, or living room. The design is outstanding because the diffuser is made of authentic bamboo wood.
It uses ultrasound technology and has more features to provide the ultimate control. You can set it up to run continuously or make it turn off after an hour or two. Additionally, it comes with rotating LED lights that provide an amazing atmosphere while it works. It will last up to 14 hours intermittently.
Features:
Amazing design made from true Bamboo
Ultrasound technology
Intermittent option
Runs up to 14 hours
2 timer settings
Covers up to 400 square feet
3. Stadler Form Jasmine
If you're looking for a diffuser to add to your minimalistic and modern interior, then you're looking for the Stadler Form Jasmin. This is my choice for one of the best essential oil diffusers because It has a unique black look that will fit with anything. It's made of smooth metal and plastic and will create the perfect look in your room.
This ultrasonic diffuser uses a cord to be powered but will shut off automatically when there's no more solution inside, making it as safe as possible. It has two modes – continuous and interval. The first will last for ten hours, and the second can go up to 24.
Features:
Minimalistic design
Ultrasonic vibrated humidification technology
Uses a cord
Has two modes
4. UrPower
The UrPower diffuser looks pretty much like a big candle if you put the cool lighting features aside. It has a 300 ml tank that is enough to cover an area of around 200 square feet. The design is simple yet modern and clean.
It has three timer options aside from letting it run until it's empty. The best thing about it is the lighting. Seven different color modes are available, and impressive 15 lighting modes. It's quiet, simple, and provides excellent scent quality.
Features:
Simple and modern look
3-time modes pus continuous
7 color modes
15 lighting modes
Covers up to 200 square feet
5. Asakuki 500 Ml Diffuser
For those that won't take anything but a full-day coverage by the diffuser, here's the Asakuki with a capacity tank of half a liter. It is enough for 16 straight hours of naturally evaporated mist, entirely controlled by the user. If you don't like the intense smell, you can set it up to produce a weaker stream of mist.
It comes with seven mood light options, which, together with the faux wood design, create a cool look for this Asakuki model. It has three-time settings and will turn off automatically when it's empty. Its power is enough to cover up to 300 square feet.
Features:
A large capacity tank of 500 ml
Lasts for 16 hours straight
2 mist stream settings
3-time settings
Up to 300 square feet
7 light modes
6. DoTerra Petal Diffuser
Also, one of the best essential oil diffusers is this one from DoTerra. A nice and slick purple-ish diffuse like DoTerra might be ideal for those that want to feel soft and relaxed. It's perfect for the bedroom and the bathroom to create an essential oil mist that will turn the ordinary air into perfection.
With three different time settings, DoTerra will reach up to 330 square feet. It also comes with an optional light, which you can turn on or off.
Features:
Simple to use
Soft look
Reaches up to 330 square feet
3-time settings
7. Exqline 1500 ml Ultrasonic Diffuser
Those that need to cover a big salon and fill it with a perfect aroma are looking for the Exqline 1500 ml model. It covers up to 450 square feet and will last nearly forever. Of course, that's just a saying, but it will really go on continuously for up to 22 hours.
Additionally, it has two light modes – regular and dimmed. You might think that a machine of this size will be noisy, but it never produces more than 35 dB of noise. The design is somewhat questionable, and some people might not see it as suitable, but if you do, then go for it.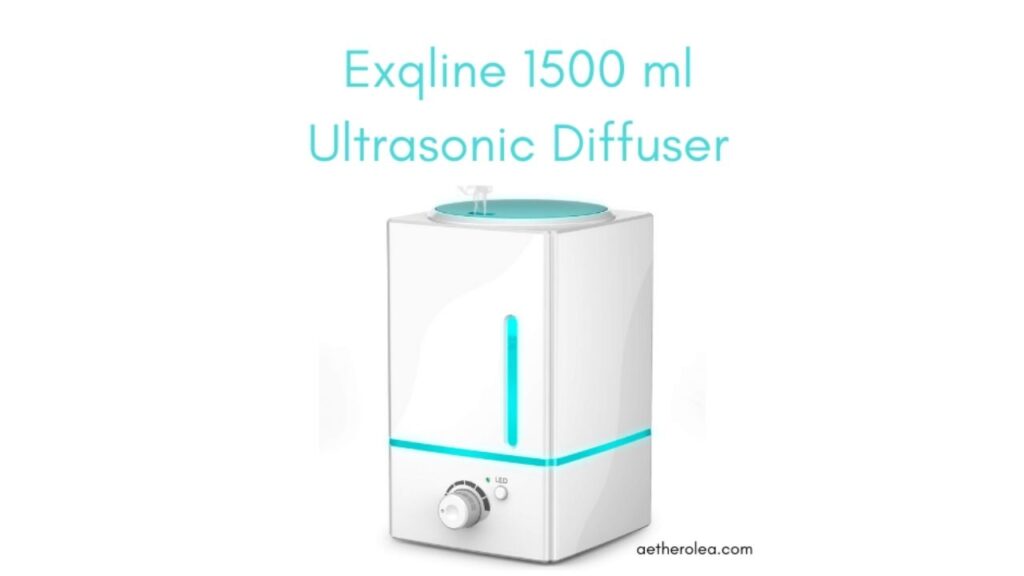 Features:
1500 ml tank capacity
Reaches up to 450 square feet
2 Light modes
Can continuously run for 22 hours
Less than 35 dB of noise
8. Vitruvi Stone Diffuser
Want to purify and improve your air quality with style? This is the option you're looking for. Along with the Bamboo we mentioned, this is another nature-inspired model. The Vitruvi diffuser is made from ceramic and looks spectacularly amazing.
Some of the features are not as spectacular, though. It only has a 100 ml tank which is enough for only eight hours of work, and that's only if you set it on intermittent mode. However, the power is outstanding, and the scent can reach up to 500 square feet.
Features:
Made of ceramic
Reaches up to 500 square feet
Ultrasonic technology
Automatic shut down
9. AromaTech AroMini
Nearly all the models we mentioned so far were pretty affordable, but this one is going to stun you with everything it has for the price. The AromaTech AroMini is a nebulizing diffuser that uses a different technology than most of the items on this list.
The diffuser uses a 120ml bottle of essential oil which provides a scent felt up to 1000 square feet. Made from recycled aluminum, it's a device that looks modern and classy. The best thing about it is that you can connect it to your smartphone via Bluetooth and control the mist stream and hours of work.
Features:
Nebulizing technology
Uses 120 ml bottles
Made of recycled aluminum
Bluetooth connectivity
More mist stream settings
Covers up to 1000 square feet
Modern design
10. Raindrop 2.0
Another nebulizer is on the list, but this one comes with a much better price. Made of real wood and glass, it will look incredible in your living room. You can confuse your guests by making them think the diffuser is actually a cooking oil bottle on the table.
The organic materials make the scent purer, and the scent is much different than anything else you'll find on the market. The oil is inserted in drops (around 20) rather than the full package like some other models. That's why it will only last a few hours on intermittent mode.
Features:
Incredible wood design
Nebulizing technology
Uses only around 20 drops per run
Very easy to use
Affordable nebulizer
11. Aroma Outfitters 3D Galaxy
Last but not least – it's the Aroma Outfitters 3D Galaxy, a diffuser that is perfect for the kids' room. Although its essential oil effects are not impressive, it still manages to do the job by keeping the kids entertained.
The LED lights and the flashing features are outstanding, providing fun or comfort, depending on what you want. It has a 230 ml container, which is enough for up to eight hours of run time. There are settings for the mist volume and three-time settings, which is just enough to call this a good option.
Features:
Impressive LED light design
230 ml container
3-time settings
Different mist volumes
How to choose the best essential oil diffusers?
Essential oil diffusers or aroma lamps, as they are also known, are made to spread the smell created by the essential oil. The first thing you need to know about these items is that different technologies are involved in different brands and models.
There are two main methods of diffusing the aroma. The first one is by heating the substance inside the diffuser and naturally spreading it throughout the room. The second one is by nebulizing it. This method can either use compressed air to spread the particles through the air or will use ultrasonics.
When we're talking about diffusers, we mainly think about the second method. These items are made to spread the scent throughout the room without waiting. Many popular brands use one of these types to diffuse the essential oil smell, so you can say they are both equally successful.
What are the main differences between them?
The difference between ultrasonics and compressed air technology is mainly in the technique of spreading the scent. The first one uses a vibrating membrane to transform the substance of water and oil concentrate into mist and spread it across the room.
Ultrasonics are generally more popular because they are more affordable and they provide a more subtle and pleasing scent. The essential oil by itself is a concentrate and will not make you feel good if you inhale it without dissolving it into something else, most commonly water.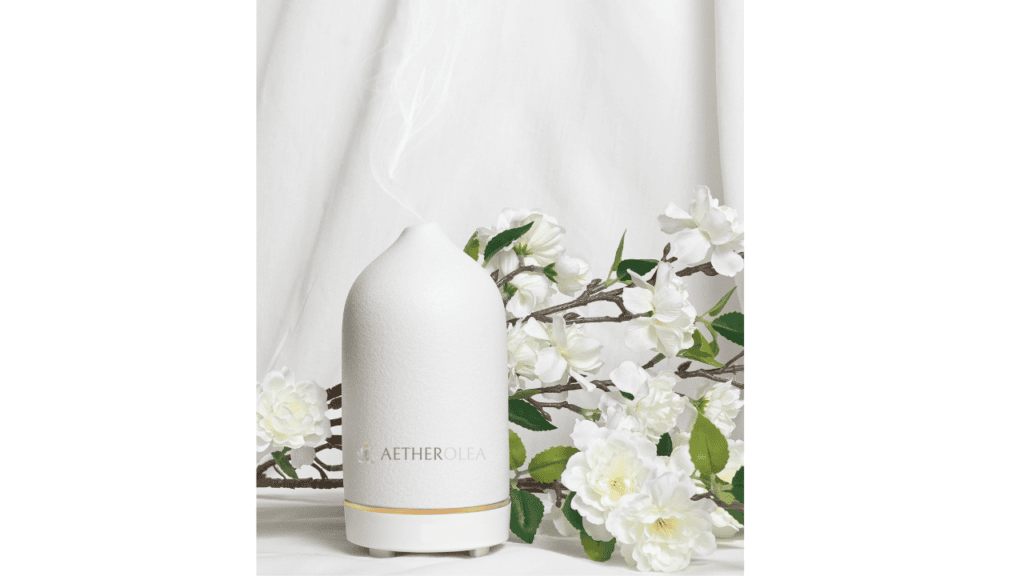 On the other hand, compressed air technology uses a technique by which the compressed air is blown into the essential oil directly and pushed out of the item to spread across the room. These diffusers are usually less affordable, create a strong scent that not too many people can handle, and on top of it is noisy.
Of course, it doesn't mean that the second one is a bad choice. It is just an option that some people won't find suitable because of these features. If you prefer a stronger scent, then you'll be happy with the compressed air diffusers.
Choose the right capacity
If you browse through different models, you'll notice that some of them are bigger than others, and you'll surely notice that they have different capacities. This is entirely normal because every home has more differently sized rooms.
You can't use the same diffuser everywhere. If you have a 100 square feet room, you don't need a diffuser that is capable of covering 300 square feet. The latter one will be more expensive and create a strong smell that won't make you feel good but will make you open the door and hope for a quick breeze.
On the other hand, if you have a bigger room, then you need something accordingly. You don't want to spend more time on the couch across the room and never feel the scent coming off the diffuser.
Looks matter
How the object is designed is important. Some manufacturers go with modern styles, while others create more traditional diffusers that can fit in more old-fashioned rooms. It's all up to you, and there are no preferences of what's good or bad in this field.
Additional features
Although you want your diffuser to do its job and spread the scent across the room, it is still nice to have some additional features to improve its function. Some of them have timers to be turned on or off when you're not home. Others have lights to create a cool atmosphere, and there are those with patterns for spraying an amount of mist every now and then.
These are all cool stuff, and some users will find them useful and interesting, while others will prefer nothing more than the scent diffusing, which is why they want to get one for themselves.
Wrapping up
Now you know everything about essential oil diffusers. If you're looking for the best model for 2022, the list above will get you to the right place. Think about what you need and choose one according to your preferences. Make sure you get the best option and enjoy spending time in a room filled with your favorite essential oil scent. I hope these 11 Best Essential oil diffusers will help you to make an easy decision.