As an avid aromatherapist, I had the opportunity to test and analyze different types of diffusers available in the market. When trying to fill my bedroom with a delightful scent, I decided to use essential oils and tested various diffusers to find the most effective one. During my testing, I found that nebulizing diffusers provide the most efficient way of dispersing undiluted essential oils into the air.
When I tried nebulizing diffusers, I found that they effectively dispersed undiluted essential oils into the air as a fine mist, preserving their therapeutic properties and maximizing their aromatic benefits. Other diffuser types may have their pros and cons, and individuals may have their preferences, but in our testing, nebulizing diffusers provided the most efficient diffusion of essential oils.
With this article, I hope to provide you with the information you need to choose the best nebulizing diffuser for your aromatherapy needs. As an experienced aromatherapist, I believe that investing in a high-quality diffuser is essential for reaping the full benefits of essential oils.
Dark Radiance 2.0 Nebulizing Diffuser
As an aromatherapist, I highly recommend this nebulizing diffuser as an excellent choice for spreading the scent of essential oils in your home. One of the main reasons it's on my top list is its unmatched design, which makes it an ideal decorative piece for any room in your house.
Even when not in use, you can place it on your nightstand or next to your sofa and admire its unique style. But when you do use it, you'll be amazed at how efficiently it spreads the aroma of your chosen essential oil throughout a room of up to 800 square feet.
This diffuser is perfect for use in your bedroom or living room, and you can choose from a wide range of essential oils, including rose, lavender, or any other scent that suits your mood or occasion. One great advantage of this diffuser is its affordability, making it an excellent choice for anyone who wants to enjoy the benefits of aromatherapy without spending a fortune.
Another great feature is its integrated timer, which allows you to set the operating cycle according to your preference. This ensures that your room always has the perfect aroma density, giving you a relaxing and calming atmosphere whenever you need it. Overall, this nebulizing diffuser is an excellent choice for anyone who wants to experience the benefits of aromatherapy in their home.
Pros: 
Coverage of up to 800 square feet
Amazing design
Number of options to set the perfect aroma density
Made entirely of natural materials
Cons:
The color choice might not be suitable for some
---
Organic Aromas Opulence
I highly recommend this nebulizing diffuser, not only for its unique appearance but also for its exceptional performance. This diffuser stands out with its design, resembling a chemical experiment set. It's perfect for those who appreciate unconventional and cool items to add character to their living space.
Despite its unusual appearance, this nebulizer provides the same therapeutic benefits as other high-quality diffusers. It effectively diffuses essential oils and can cover an area of up to 800 square feet, filling the space with your favorite aroma. With a two-hour running cycle, it will create a delightful and calming atmosphere in your room.
The glass container looks like a scientific tool, while the ceramic bottom adds a touch of elegance to the design, available in two different colors. Opting for the darker version will give you a unique product that looks more like a magic lamp than a scientific experiment.
The diffuser's operation includes a 2-minute on and 1-minute off cycle, which ensures that the room is filled with the perfect aroma density. The entire product is carefully handmade, giving it a distinctive and original character. If you're seeking an original and unconventional nebulizing diffuser to complement your living space, this product is an excellent choice.
Pros:
Up to 800 square feet of coverage
Running cycle of two hours
Modified cycle management for perfect aroma density
Original design
Two-color options
Cons:
A design that some people will find repulsive
---
MiniDiva Loxim Diffuser
MiniDiva Loxim Diffuser is another product with an impeccable design and something to make your home look different, aside from the main feature – creating an outstanding aroma in your place. This nebulizing diffuser has such a different look than anything on the market.
What sets this nebulizing diffuser apart from others on the market is its unique squared shape and specially designed lock for the essential oil bottle. This feature ensures that your essential oils are securely placed, and the diffuser can operate without any risk of spills or leaks.
Once you press the start button, it only takes around two minutes for the diffuser to spread the aroma of your chosen essential oils to cover an impressive 700 square feet. While this coverage may be slightly less than some competitors, it is still an excellent option for most people.
Another standout feature of this diffuser is that it requires no cleaning whatsoever. Simply place the essential oil bottle into the special lock, and there's no need to worry about cleaning the diffuser afterward. You can effortlessly replace the bottle with a new one and continue to enjoy the benefits of aromatherapy with minimal hassle.
Overall, I highly recommend the MiniDiva Loxim Diffuser for anyone seeking a high-quality and low-maintenance way to enjoy essential oils in their home. Its exceptional design, ease of use, and impressive performance make it a top choice for both aromatherapy enthusiasts and newcomers alike.
Pros:
Interesting design
Very quiet – 38 decibels
No need for cleaning
It takes only two minutes to reach its full potential
Two colors available
Cons:
A little less powerful than the competition
Some people will find the design unsuitable
---
Organic Aromas Redolence
A bestseller from Organic Aromas that you can't go wrong with is the Organic Aromas Redolence. With four different colors – black, dark wood, light wood, and white, this nebulizing diffuser is an excellent choice for many people. It has everything you need and will not let you down.
This nebulizing diffuser comes in four different colors – black, dark wood, light wood, and white – making it an excellent choice for many people, depending on their home decor preferences. It is a simple but effective diffuser that is equipped with everything you need to enjoy the benefits of aromatherapy.
The Organic Aromas Redolence nebulizing diffuser can cover up to 800 square feet, and it operates on a usage cycle of two minutes on – one minute off. Additionally, it has an auto shut-off feature after two hours of use to ensure safe and energy-efficient operation. The diffuser also features LED lights, which provide a soothing ambient atmosphere and seamlessly blend in with your home environment.
In summary, if you're looking for a reliable and straightforward nebulizing diffuser that can cover a large area and deliver a rich aroma, the Organic Aromas Redolence is an excellent choice. Its simple design, reliable performance, and ease of use make it a top pick for many aromatherapy enthusiasts.
Pros:
Up to 800 square feet of coverage
Modified usage cycle for a perfect experience
Auto shut down after two hours
Led lights
Four color options
Cons:
Ordinary design
---
ArOmis Aromatherapy Nebulizing Diffuser
From an aromatherapist's perspective, the ArOmis nebulizer is an exceptional work of art made from wood and glass. Its unique design is entirely tailored to meet the high demands of aromatherapy use, making it a top pick for anyone seeking a powerful and rich aroma.
One of the most remarkable features of this nebulizing diffuser is its ability to fill a room with fragrance within a couple of seconds. It requires only 20-40 drops of essential oil, making it a highly efficient option. Additionally, it has an auto shut-off mode that activates after four hours, ensuring safe and energy-efficient operation. The cap on top and the settings allow you to adjust the intensity of the aroma to your preference.
With its ability to fill a room of up to 1000 square feet, this nebulizer is incredibly powerful and valuable for all types of rooms. However, it is important to note that the wooden part where the machine is and the glass compartment are connected with a tiny piece that is fragile and requires careful handling. Having pets or children around may pose a risk.
In summary, the ArOmis nebulizer is a stunning work of art that provides a powerful and rich fragrance suitable for all types of rooms. While it requires careful handling due to its fragile design, its efficiency, adjustability, and availability in multiple glass designs make it an excellent choice for aromatherapy enthusiasts.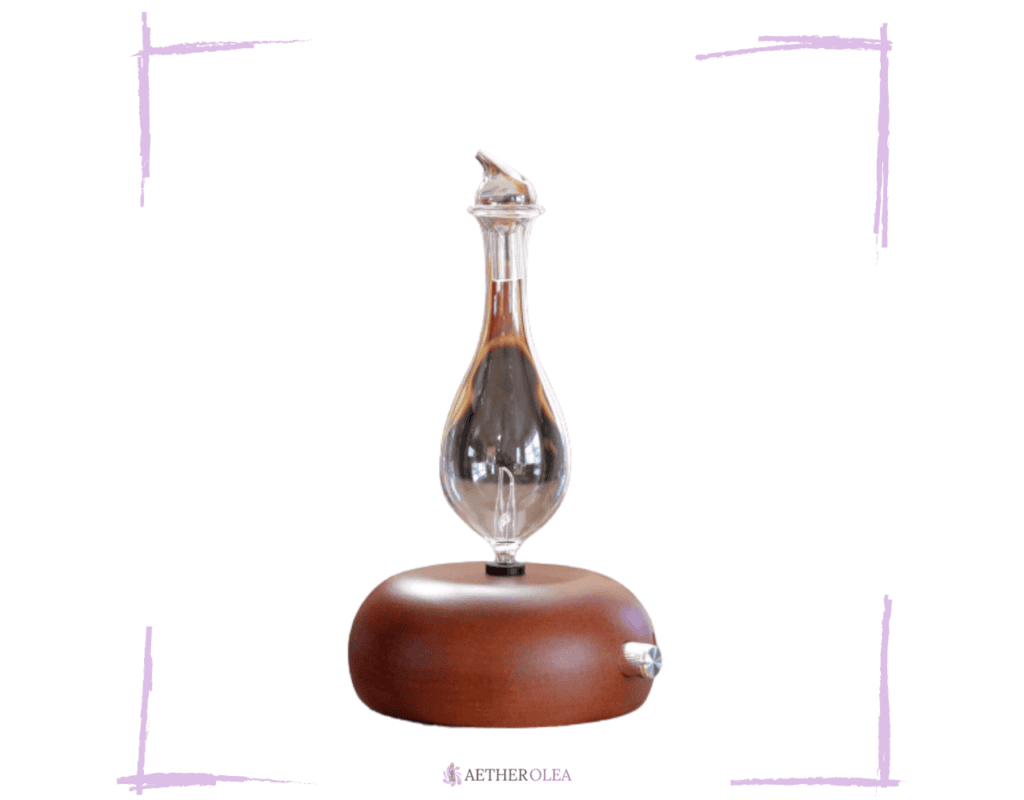 Pros:
Multiple glass designs
It covers up to 1000 square feet
Auto shut off after four hours
Completely organic, made of glass and wood
Cons:
Fragile and might get easily destroyed
---
Utama Spice Danau Satu
I would like to introduce you to a unique nebulizing diffuser that I discovered during my trip to Bali. The Bali-made nebulizer is made of local wood and handmade glass, which is a perfect combination for an excellent nebulizer design.
This nebulizer's design is simple and elegant, making it suitable for any room, although it will look especially lovely in a bathroom. Its capacity is perfect for this purpose since it can cover around 400 square feet, filling your bathroom with a delightful aroma.
It operates on a special mode of two minutes on and one minute off, which maintains the air ideally dosed with the selected fragrance. The machine can run continuously for two hours, and it has an auto shut-off mode to prevent it from running for too long.
In addition, there's an LED light that enhances the atmosphere and adds to the overall relaxation experience. It's crucial to turn off the LED light once the machine is finished working.
Overall, this nebulizing diffuser is perfect for anyone looking for a high-quality, handmade, and elegant design. Plus, it will bring the essence of Bali's natural essential oils to your home.
Pros:
Organic made
LED lights implemented
Auto shut off after two hours
A special mode of work to keep perfect room aroma
Cons:
Only 400 square feet of coverage
Simple design
---
Daroma Glass Diffuser
The Daroma Glass Nebulizing Diffuser is an excellent choice for those who prioritize quietness when it comes to their aromatherapy sessions. It has a remarkably low noise level and won't disturb your peaceful sleep or quiet moments of relaxation. Plus, the stylish design of this diffuser is perfect for any room in your house, especially the living room, where you can showcase its beauty.
One of the standout features of this diffuser is the seven LED lights that can create a soothing ambiance in your room. You can also use the night mode to keep the fragrance going even after you fall asleep. This diffuser also functions as a humidifier, and with a 200 ml water tank, you can enjoy both benefits without the need for two separate devices.
The automatic switch-off feature is a great safety measure that ensures your essential oils won't be wasted if you forget to turn it off. Additionally, with multiple mist pressure settings, you can control the intensity of the scent to suit your needs, making sure your room always smells lovely.
Pros:
Acts as both humidifier and nebulizer
Seven LED lights
200 ml water tank
Glass essential oil container
Auto shut off
Very quiet
Cons:
Only one color option
Some people may find it too small
---
Organic Aromas Raindrop 2.0
I can say that the Organic Aromas Raindrop nebulizer is a fantastic addition to any room. Its unique design resembles a raindrop or a bottle, and it is made of plantation hardwood and glass, which makes it look perfect no matter how you see it. The top part of the diffuser looks like a candle fire, which creates a soothing atmosphere during meditation or relaxation.
The nebulizer operates silently, so it won't disrupt your peaceful moments. The LED lights offer a different mood if you prefer a more vibrant atmosphere. It works for two hours under a special regime, which allows it to shut off by itself, preserving the rest of the essential oil you put in the container.
The glass container is easy to clean, and the diffuser is equipped with unique features that make it stand out from the rest. The aroma it produces is just perfect, and you can choose any essential oil you like to enjoy its benefits. The Organic Aromas Raindrop nebulizer is an excellent choice for anyone who wants a beautiful and functional diffuser that adds to the ambiance of any room.
Pros:
Whisper-quiet mode of operation
LED lights
Auto shut down
Interesting design
Cons:
It might not be for those on a budget
---
Pilgrim Sofia Nebulizer
The Sofia nebulizing diffuser has a unique and futuristic design that will surely impress you. Made of oak wood and ceramic, this diffuser adds a touch of elegance to any room, especially in the bedroom. The ceramic top is where you put your favorite essential oil, and it is accompanied by two glass containers that make it easier to switch up your fragrances.
Aside from its chic design, the Sofia nebulizer can fill your room with a delicate scent that will help you relax and unwind. With a working mode of two minutes on and one minute off, it ensures the air is perfectly dosed. It also features an LED light that provides a cozy ambiance to your room.
However, it is not the most powerful diffuser out there as it can only cover up to 270 square feet. Nevertheless, its beautiful design and functionality make it a valuable addition to any room.
Pros:
Amazing minimalistic design
Two glass containers
LED lights
Standard work mode to keep perfect air aroma
Cons:
It covers only 270 square feetж
Needs more frequent maintenance
---
Trillia Beevey Nebulizing Diffuser
This nebulizing diffuser is a delightful addition to any space. With its charming design, it's sure to bring a smile to your face every time you look at it. The compact size makes it perfect for any room, and it is highly effective in creating a pleasant aroma that promotes relaxation.
Crafted from high-quality wood and glass, it produces an authentic fragrance from your favorite essential oils. The glass container is easy to clean, and the diffuser features four different operating speeds, making it highly customizable to your specific needs.
For those peaceful nights, you can set it on silent mode, and it will work efficiently with a working cycle of 1.5 minutes on and 1.5 minutes off. After two hours, it will automatically shut off, ensuring the safety of your space and the preservation of your essential oils.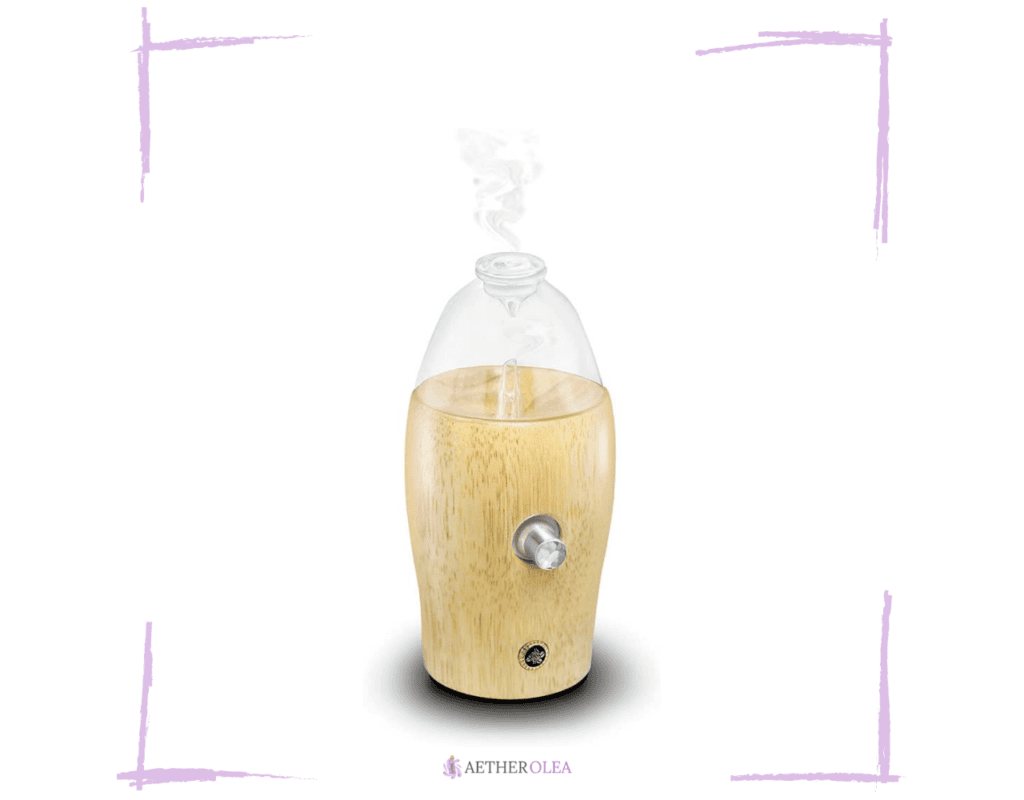 Pros:
Cute design
Made of excellent organic materials
Four operating speeds
1.5-minute repeating cycles
Automatic shut down after two hours
LED light
Cons:
Only for US cords
---
How to choose the best nebulizing diffuser for you?
I would like to share some tips to consider when purchasing a nebulizing diffuser. One of the benefits of nebulizing diffusers is that they produce entirely natural scents. However, some individuals may find the scent too strong for their liking. In such cases, evaporative diffusers may be a better option as they produce a more subtle aroma that is not as potent.
But if you're seeking a natural and authentic scent, then nebulizing diffusers are ideal for you. You must select a nebulizing diffuser that suits your needs and preferences. If you have a large room, you'll require a diffuser with a larger container and wider coverage. However, if you have a smaller room, you can opt for something more compact and less powerful. Ultimately, choose a nebulizing diffuser that meets your specific requirements and enhances your aromatherapy experience.
The design is another feature that needs to be considered, especially if you're planning to use it in the living room or the bedroom. It has to go with the style of your room, and you should feel it as part of the home. Don't get something that looks spectacular if your home is made in another style.
Make sure it's in the right color too. Although the nebulizer has to have a glass container, the rest of it may be painted in any color you like. Some people won't accept anything less than wood, but others will accept plastic or other materials in various colors.
One essential feature to look at in the nebulizing diffuser is the noise. There's nothing more soothing than enjoying a hot tub or a nap on the sofa with the scent of your favorite essential oil. However, if you keep hearing the noise from the diffuser, it will all go to waste. That's why a quiet nebulizer is a vital feature to look for.
Additional features that will make it more valuable are also worth looking at. Whether it be a timer to program the diffuser so the perfect amount of the fragrance is scattered across the room or LED lights, it is better to have them than not. A system of functions that will provide the best aroma concentration in the air is also useful.
Most frequently asked questions regarding nebulizing diffusers
I understand the curiosity and questions that arise when considering a nebulizing diffuser for the first time. It's natural to wonder what others think about this method of diffusing essential oils.
From my experience and expertise, I am frequently asked various questions by my friends and family regarding nebulizing diffusers. While some of these inquiries may seem repetitive, it is important to note that individuals care about the same topics. They want to ensure the safety of nebulizing diffusers, understand how they are utilized, and determine the advantages they offer compared to other options.
I compiled the most frequently asked questions, which you might also be interested in. Read on and see if you find an answer to some of your questions.
Are Nebulizing Diffusers Safe?
In the palette of diffuser options, the nebulizing diffusers are the safest. They don't use anything but essential oil. They don't spread water or plastic particles, and they don't use heat to spread the essential oil. The fragrance coming off the nebulizer is pure and strong but is entirely safe.
How do Nebulizing Diffusers Work?
Nebulizing diffuser uses no heat and no water to dissolve the essential oil. They use pressure, which is added through tubes directly to the oil and force it to dissolve on its own into small particles that scatter through the room's air. That's why these diffusers' scent is powerful.
How to properly clean a nebulizing diffuser?
Most nebulizer diffusers are made with a glass container to place the essential oil. That makes them easy to be cleaned. All you need to do is pour around 30 drops of rubbing alcohol inside and swirl it around to cover the entire container. Finally, let the machine run for 5-10 minutes to ensure the tubes are also cleaned.
Why do most nebulizing diffusers have a timer?
The oil you place inside the diffuser is most often 100% pure. It is powerful, and leaving the diffuser to work for an hour will completely waste the entire bottle. Not just is the oil expensive, but you'll fill the room with a powerful smell that will not be comforting at all.
How to choose a nebulizing diffuser?
There are a few key features to focus on when choosing a nebulizing diffuser. Those are the power or ability to cover more room, the design, quiet, and timer. Everything else is just personal preference and can be beneficial but not essential.
How to use the nebulizing diffuser?
It's effortless to use a nebulizing diffuser. First, assemble the diffuser as it says in the instruction manual. Then place the essential oil inside the glass container, plug the cord into the socket and turn the diffuser on. That's it. If there's the option for setting a timer, inspect how much time it needs to feel the room, and the next time, put it automatically.
What is the difference between Nebulizer and Regular Diffuser?
The nebulizing diffuser is the best option of all diffusers. This type uses no additional solutions, which makes the scent in the air completely natural. It's perfect for people with respiratory problems, pets, and plants. The aroma is sharper, and you can feel the original smell of the oil without add-ons.
Are there any risks of using nebulizing diffuser?
There are no risks from using a nebulizing diffuser. This type is the safest of all other options for dispersing essential oils. The only thing that some people might find unpleasant is the solid and sharp smell of the high purity of the essential oils used in nebulizers.
Conclusion
Only people who still haven't explored the fantastic features of nebulizing diffusers will think that there's a better option out there. These items will turn your home into a completely different place, and once you try them, you'll always want to spend more time there than anywhere else.
The ten nebulizing diffusers above are carefully chosen and based on my personal experience over the years. Some are brand new and published this 2022, and others are older models but still doing great on the market. Pick a nebulizing diffuser based on your needs and enjoy the perfect scent created by your favorite essential oil.