When you're thinking about filling your bedroom with a fantastic scent, you're thinking about using essential oils. The oils are spread across the room using diffusers. There are several ways to spread the smell of the oils, but I prefer nebulizing diffusers because of their features.
It's okay if you feel like other solutions are better. You may choose ultrasonic, heat, or evaporative diffusers, and they all have their pros and cons, but the nebulizing method is perfect for me. Here you can find the 11 Best Essential oil Diffusers for 2022, and then you can make the difference and choose the best for you.
Over the years, I had the chance to try many different models. My passion for the perfect scent made me order all kinds of other diffusers over the years, which is why I can share my experience and hopefully help you get the best one for your needs.
In this article, you can see ten nebulizing diffusers worth getting. They all have different features, so you'll need to see what works best for you. I'll highlight some of their most notable pros and cons, showing you what you can expect after purchasing some of them. Keep up with me and find the best nebulizing diffuser on the market for 2022.
Dark Radiance 2.0 Nebulizing Diffuser
This nebulizing diffuser is on my first list because of its unmatched design. The style of this one is so unique that you can place it on your nightstand or next to your sofa like a decorative piece without even using it as a nebulizer.
Still, its primary role is spreading the scent of the essential oil you'll get, so you can rely on it to cover around 800 square feet. That means you'll easily cover your bedroom or living room and enjoy the perfect smell of roses, lavender, or whatever you choose for the occasion.
One great thing about it is the price. It's reasonably affordable, so if you don't like something about it, you won't feel sorry for spending top dollars, unlike other items that might be overpriced and do nothing more than this nebulizer.
An excellent feature is its integrated timer with an operating cycle providing perfect aroma density in your room. Set it by your personal preference, and make sure the place always smells just the way you want it.
Pros:
Coverage of up to 800 square feet
Amazing design
Number of options to set the perfect aroma density
Made entirely of natural materials
Cons:
The color choice might not be suitable for some
---
Organic Aromas Opulence
A personal favorite on this list because of its looks. This nebulizing diffuser is made to look like part of a chemical experiment. It's perfect for those who don't like mediocre things and want to spice up their home with a diffuser that looks unordinary and cool.
Although looking differently than most nebulizers, it provides equally good benefits as most good diffusers. It will cover an area of up to 800 square feet with the perfect aroma of your favorite essential oil. It has a two-hour running cycle which is enough for this area to be filled with the scent.
The glass container looks like part of a chemical lab, but the bottom, where the mechanism is, is made of ceramics in two different colors. If you choose the darker option, you're getting something completely different – something that looks more like a magic lamp than a lab experiment item.
It also has a running cycle of 2 minutes and one minute off, perfect for filling the room with the proper aroma density. The entire product is handmade, which only speaks for its uniqueness and originality on the market. If you want to be original, this is the nebulizing diffuser for you.
Pros:
Up to 800 square feet of coverage
Running cycle of two hours
Modified cycle management for perfect aroma density
Original design
Two-color options
Cons:
A design that some people will find repulsive
---
MiniDiva Loxim Diffuser
MiniDiva Loxim Diffuser is another product with an impeccable design and something to make your home look different, aside from the main feature – creating an outstanding aroma in your place. This nebulizing diffuser has such a different look than anything on the market.
The bottle with the essential oil is placed on a special lock inside the squared diffuser, which is unlike anything else out there. It is also extremely quiet, reaching a noise of only 38 decibels. This is nearly unrecognizable, and you can sleep without listening to any noise coming from it.
When you press the start button, it will need around two minutes to fill the maximum 700 square feet with the fragrance of your choice. It is a little less than the rest of the competitors but still good enough for most people.
One of the best features of this diffuser is that it requires no cleaning whatsoever. You place the bottle in the special lock, and there's no need to clean anything afterward. You replace the bottle with a new one and continue enjoying its work.
Pros:
Interesting design
Very quiet – 38 decibels
No need for cleaning
It takes only two minutes to reach its full potential
Two colors available
Cons:
A little less powerful than the competition
Some people will find the design unsuitable
---
Organic Aromas Redolence
A bestseller from Organic Aromas that you can't go wrong with is the Organic Aromas Redolence. With four different colors – black, dark wood, light wood, and white, this nebulizing diffuser is an excellent choice for many people. It has everything you need and will not let you down.
At the same time, there's nothing spectacular about it to make it differ from the rest of the products. If you're looking for a great diffuser that will stand out on the shelves in your living room, then you might want to look for something else.
With its work, this one can cover up to 800 square feet, a usage cycle of two minutes on – one minute off, and auto shut down after two hours. It is equipped with led lights to make the ambient more soothing and won't stand out from the environment if you get the right design for your home.
The scent it provides is rich and will meet your expectations. It won't be something that will make you think that you found the best model in the world, but it will do its job and will make your room smell like the ocean, the forest, or whatever kind of essential oil you pick.
Pros:
Up to 800 square feet of coverage
Modified usage cycle for a perfect experience
Auto shut down after two hours
Led lights
Four color options
Cons:
Ordinary design
---
ArOmis Aromatherapy Nebulizing Diffuser
Made from wood and glass, the ArOmis nebulizer is a work of art. It is made entirely to meet the high demands of aromatherapy use. It is completely organic and provides a fragrance that is powerful and rich. The reason for this is its unique design that some people will find impressive.
At the same time, it is highly fragile and needs to be handled with care. The wooden part where the machine is and the glass compartment are connected with a tiny piece that may be easily broken if you are careless. Having a cat in your home may be a recipe for disaster here.
On the good side, this nebulizing diffuser requires 20-40 drops of essential oil to work and fills the room within a couple of seconds. It has an auto shut-off mode that is activated after four hours, and thanks to the cap on top and the settings, you can adjust the intensity of the aroma.
It can quickly fill a room of up to 1000 square feet, making it very powerful and valuable for all types of rooms. The best part is that it is available in multiple glass designs to fit your preferences and needs. Choose the one you prefer and enjoy yourself.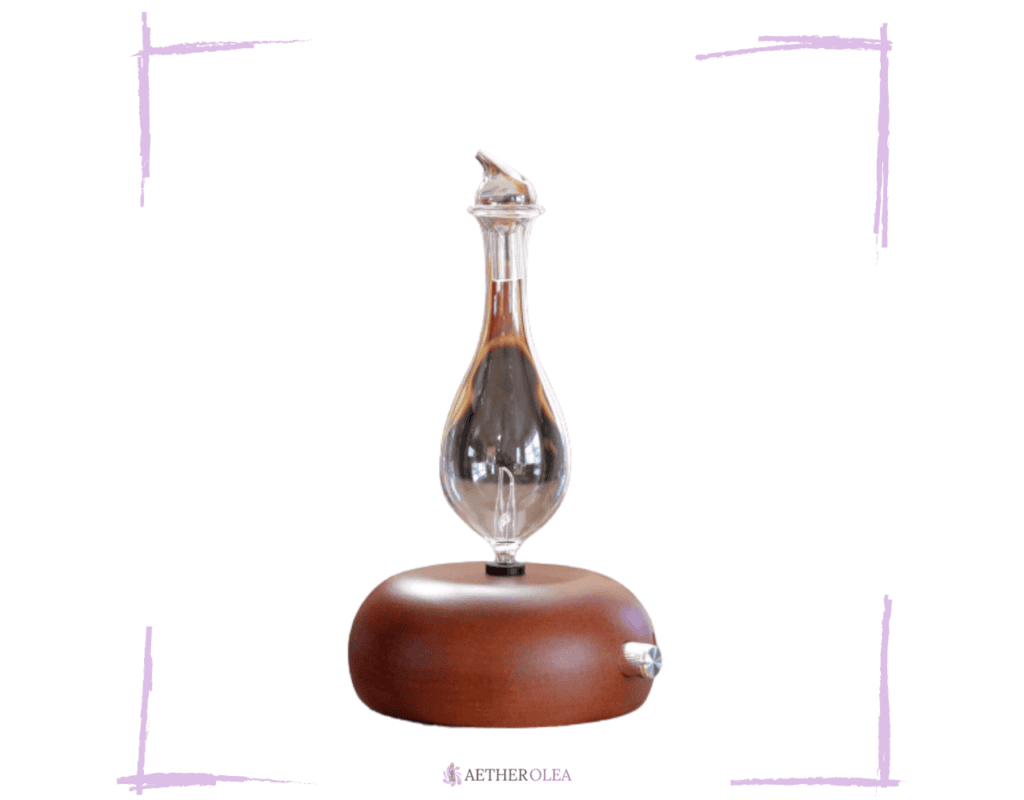 Pros:
Multiple glass designs
It covers up to 1000 square feet
Auto shut off after four hours
Completely organic, made of glass and wood
Cons:
Fragile and might get easily destroyed
---
Utama Spice Danau Satu
How about this nebulizing diffuser coming from a place known as one of the top global vacation locations and a place where essential oils are found in abundance. It is made in Bali, and I got mine on my first trip there. It is made of local wood and handmade glass, which is everything you'd want in a nebulizer design.
The looks are somewhat ordinary, and you won't be dazzled too much by it, but it will still look good in your living room. It is much better placed in the bathroom, where the design is way more suitable for something like this.
The features say that it can cover around 400 square feet, which is why I say the bathroom is the best option. Not many people have enormous bathrooms, and this nebulizer can quickly fill your place with the selected fragrance.
It will last for two hours straight on the special mode for keeping the air ideally dosed under the two minutes on and one minute off regime. There's a LED light implemented in it for a perfect atmosphere, and it will stay on even after the machine's work is finished, so make sure you turn it off.
Pros:
Organic made
LED lights implemented
Auto shut off after two hours
A special mode of work to keep perfect room aroma
Cons:
Only 400 square feet of coverage
Simple design
---
Daroma Glass Diffuser
Daroma Glass Nebulizing Diffuser is an item that is extremely quiet and won't produce nearly any noise. It's perfect for sleeping, but the design is also excellent for keeping it on the living room table because it looks very decorative.
At the same time, it features seven different LED lights and a night mode for those moments when you want your room to keep the scent you had before falling asleep. It also acts as a humidifier and features a 200 ml water tank so that you can combine both needs.
There is an automatic switch to turn it off in case you forget it, so it keeps your essential oil safe when you're not home. Multiple modes can control the mist pressure making your room always smell lovely.
Pros:
Acts as both humidifier and nebulizer
Seven LED lights
200 ml water tank
Glass essential oil container
Auto shut off
Very quiet
Cons:
Only one color option
Some people may find it too small
---
Organic Aromas Raindrop 2.0
As you can see, I love this brand. Organic Aromas Raindrop is a wonderful-looking nebulizer that looks like a raindrop. Some would argue that it looks more like a bottle, but it doesn't matter because this diffuser does what it was made to do.
Made of plantation hardwood and glass, it still looks perfect no matter how you see it. The top that looks like a candle fire will make you feel good during your meditation sessions, and the aroma it produces is perfect. Just pick your favorite essential oil and enjoy the silence.
That's one of its features – a whisper-quiet working mode will make it spotless. The LED lights option provides a different mood if you like something else. After two hours of constant work under the special regime, it will shut off by itself to preserve the rest of the essential oil you placed in the container.
The glass container is easy to be cleaned, and the features of the mechanism make it unique, even for the pickiest.
Pros:
Whisper-quiet mode of operation
LED lights
Auto shut down
Interesting design
Cons:
It might not be for those on a budget
---
Pilgrim Sofia Nebulizer
Looking like a mini futuristic building, the Sofia nebulizing diffuser is something else. Made in an oak wood variant and a top made of ceramic in which the essential oil is placed, this nebulizer will enrich your bedroom to make it look even more incredible than before.
Of course, it is a diffuser, so aside from the elegant design that I love, you can expect it to fill your room with a smooth scent made from your favorite essential oil. It comes with two different glass containers placed inside the ceramic part, which is highly convenient. You can wash the first one as you use the second one.
It also features an LED light that provides a cozy feeling and aroma. A standard two minutes on and one minute off work mode makes the air perfect. It can cover up to 270 square feet, which puts it in the less powerful ones out there.
Pros:
Amazing minimalistic design
Two glass containers
LED lights
Standard work mode to keep perfect air aroma
Cons:
It covers only 270 square feetж
Needs more frequent maintenance
---
Trillia Beevey Nebulizing Diffuser
This one's for the girls exclusively. Not that man would not love it, but when you look at its design, you instantly feel your endorphins jumping up. It has a cute design, it's small enough to fit in all rooms, and it does what it was made for – creating a perfect room aroma.
It was carefully crafted from exclusive wood and perfectly made glass, which provides the authentic and original fragrance made from essential oil. The container in which the oils are placed is easy to be cleaned, and the mechanism features four operations speeds.
If you want to go to sleep, you can set it on silent mode and completely forget about it. The working cycle is 1.5 minutes on and 1.5 minutes off. After two hours, it will completely shut off, so you don't have to worry about leaving it on an entire night.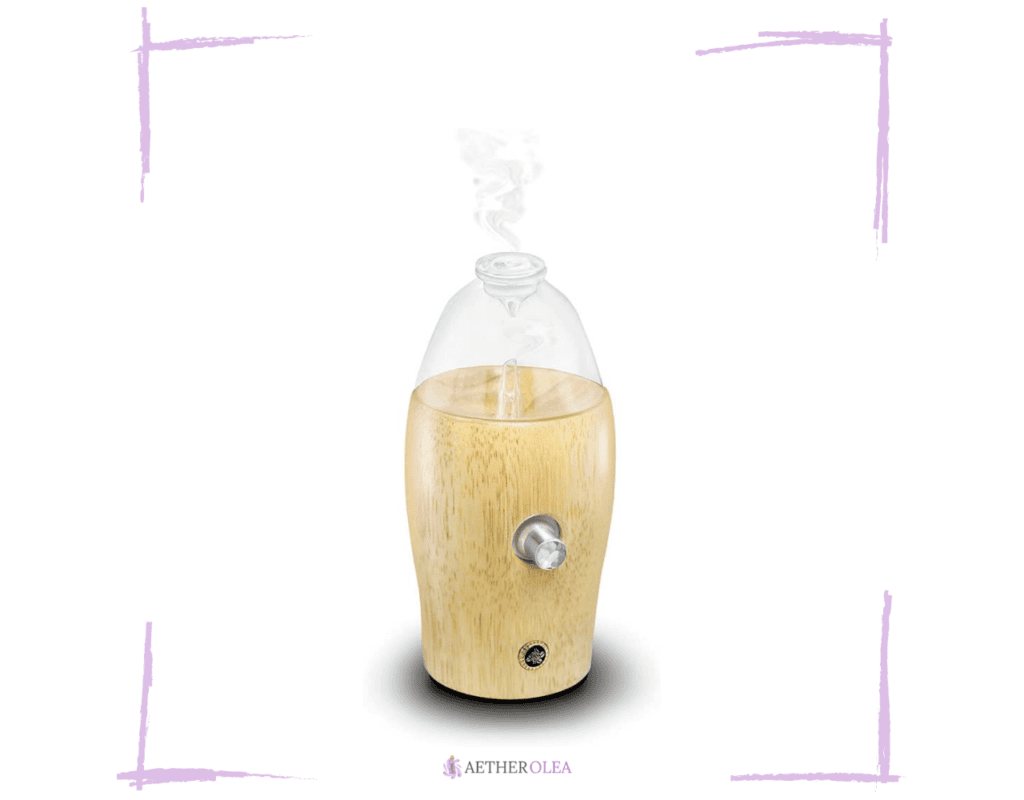 Pros:
Cute design
Made of excellent organic materials
Four operating speeds
1.5-minute repeating cycles
Automatic shut down after two hours
LED light
Cons:
Only for US cords
---
How to choose the best nebulizing diffuser for you?
There are a couple of tips you must know when you're getting yourself a new nebulizing diffuser. You should know that this is a much better option than any other diffuser on the market because the scent produced by nebulizers is entirely natural.
However, some people will find it too much for their nose. If you're used to the aroma that feels the room slightly and is not as recognizable, then you might want to consider another option, perhaps evaporative diffusers.
If you want that natural and authentic scent, then the nebulizing diffuser is exactly what you're looking for. The best ones will be those that meet your needs and criteria. Some people have enormous rooms that need to be covered, so they'll want a large container and wider coverage from their nebulizer. Others will not need such a powerful mechanism and will be good enough with something smaller.
The design is another feature that needs to be considered, especially if you're planning to use it in the living room or the bedroom. It has to go with the style of your room, and you should feel it as part of the home. Don't get something that looks spectacular if your home is made in another style.
Make sure it's in the right color too. Although the nebulizer has to have a glass container, the rest of it may be painted in any color you like. Some people won't accept anything less than wood, but others will accept plastic or other materials in various colors.
One essential feature to look at in the nebulizing diffuser is the noise. There's nothing more soothing than enjoying a hot tub or a nap on the sofa with the scent of your favorite essential oil. However, if you keep hearing the noise from the diffuser, it will all go to waste. That's why a quiet nebulizer is a vital feature to look for.
Additional features that will make it more valuable are also worth looking at. Whether it be a timer to program the diffuser so the perfect amount of the fragrance is scattered across the room or LED lights, it is better to have them than not. A system of functions that will provide the best aroma concentration in the air is also useful.
Most frequently asked questions regarding nebulizing diffusers
When you're about to get a nebulizing diffuser for the first time in your life, you will probably wonder what other people think about it. As an expert in the subject, I'm constantly asked all kinds of questions by my friends and family.
Some of these questions keep repeating, but it's understandable because people care about the same things. They want to know whether these types of diffusers are safe, whether they are the better option, how they are used, and what their advantages are.
I compiled the most frequently asked questions, which you might also be interested in. Read on and see if you find an answer to some of your questions.
Are Nebulizing Diffusers Safe?
In the palette of diffuser options, the nebulizing diffusers are the safest. They don't use anything but essential oil. They don't spread water or plastic particles, and they don't use heat to spread the essential oil. The fragrance coming off the nebulizer is pure and strong but is entirely safe.
How do Nebulizing Diffusers Work?
Nebulizing diffuser uses no heat and no water to dissolve the essential oil. They use pressure, which is added through tubes directly to the oil and force it to dissolve on its own into small particles that scatter through the room's air. That's why these diffusers' scent is powerful.
How to properly clean a nebulizing diffuser?
Most nebulizer diffusers are made with a glass container to place the essential oil. That makes them easy to be cleaned. All you need to do is pour around 30 drops of rubbing alcohol inside and swirl it around to cover the entire container. Finally, let the machine run for 5-10 minutes to ensure the tubes are also cleaned.
Why do most nebulizing diffusers have a timer?
The oil you place inside the diffuser is most often 100% pure. It is powerful, and leaving the diffuser to work for an hour will completely waste the entire bottle. Not just is the oil expensive, but you'll fill the room with a powerful smell that will not be comforting at all.
How to choose a nebulizing diffuser?
There are a few key features to focus on when choosing a nebulizing diffuser. Those are the power or ability to cover more room, the design, quiet, and timer. Everything else is just personal preference and can be beneficial but not essential.
How to use the nebulizing diffuser?
It's effortless to use a nebulizing diffuser. First, assemble the diffuser as it says in the instruction manual. Then place the essential oil inside the glass container, plug the cord into the socket and turn the diffuser on. That's it. If there's the option for setting a timer, inspect how much time it needs to feel the room, and the next time, put it automatically.
What is the difference between Nebulizer and Regular Diffuser?
The nebulizing diffuser is the best option of all diffusers. This type uses no additional solutions, which makes the scent in the air completely natural. It's perfect for people with respiratory problems, pets, and plants. The aroma is sharper, and you can feel the original smell of the oil without add-ons.
Are there any risks of using nebulizing diffuser?
There are no risks from using a nebulizing diffuser. This type is the safest of all other options for dispersing essential oils. The only thing that some people might find unpleasant is the solid and sharp smell of the high purity of the essential oils used in nebulizers.
Conclusion
Only people who still haven't explored the fantastic features of nebulizing diffusers will think that there's a better option out there. These items will turn your home into a completely different place, and once you try them, you'll always want to spend more time there than anywhere else.
The ten nebulizing diffusers above are carefully chosen and based on my personal experience over the years. Some are brand new and published this 2022, and others are older models but still doing great on the market. Pick a nebulizing diffuser based on your needs and enjoy the perfect scent created by your favorite essential oil.