In this article, we're sharing a few essential oil courses that will help you make sense of most of nature's scents; how to find them, use them, and benefit from them; but first, let's see what is crucial to know before choosing one.
Even though technology and medicine are more advanced than ever before, people turn more towards natural remedies and cures. This is because chemicals used in medicine all have particular side effects, and nature's plants are organic, pure, and have no negative sides.
One of the ways to keep your life's wellbeing is to use essential oils and the benefits of aromatherapy. With thousands of natural scents from plants all across the globe, people can treat all types of conditions.
You can turn around an anxious day with the right aromatherapy scent. Spend a few minutes in a room filled with the smell of lavender, and your mind is again at the right place. This and many more tricks can make your life a living fairytale. Learning about aromatherapy and essential oils is great, and luckily for all of us, there are so many courses online.
How to know which aromatherapy and essential oil course are the best?
Below in this article, you will find a few choices that we think are best based on our experience through the years. We went through dozens of them to come up with the best. However, everyone has their personal preference, which is the first thing you need to do when choosing this.
The first thing you need to do is think about what you're looking for. Are you taking a course to learn more about aromatherapy because you want to know how to fill your home with the perfect smell, or do you want to learn everything there is because of a job or a project in which you'll teach others?
The second thing is to decide whether you'll spend a ton of money or you want a more affordable option. Those that are the most expensive come with more features, of course. You'll probably get a certificate and learn more than the average course will.
One thing to mind when choosing is the review section. Nearly all learning platforms have the option for users to rank and review the courses. You want only those with an impeccable reputation. Of course, in our list, every one of them has a great rep. Here's our choice:
1. Free Online Introduction to Aromatherapy Course
The first one on our list is for beginners and those who are not sure whether they'd like to spend money on an aromatherapy course. This one's free and available at The Academy of Aromatic Studies. If you want to learn more about what aromatherapy is, how it is practiced, what essential oils are, and how they are used, this is the course for you.
They also teach you how plants are processed, how the oils are made, what their Latin names are, and how to make products out of essential oils – recipes, hand cleansers, bath salts, etc.
Rating: N/A
Price: Free
2. Aromatherapy – Using Essential Oils for Natural Living
More than 22,000 people took this course on Udemy. It's a course that will teach you everything about essential oils. You will learn how to use them, which ones are best for particular situations, how to make various products out of them, like massage rubs, bath products, deodorants, and even cleaning solutions.
The course features impressive six hours of on-demand video and a total of 67 products available for download. In the end, you get a certificate for completion, and you get to watch it any time you need it, as the access lasts for a lifetime.
Rating: 4.7/5
Price: $109.99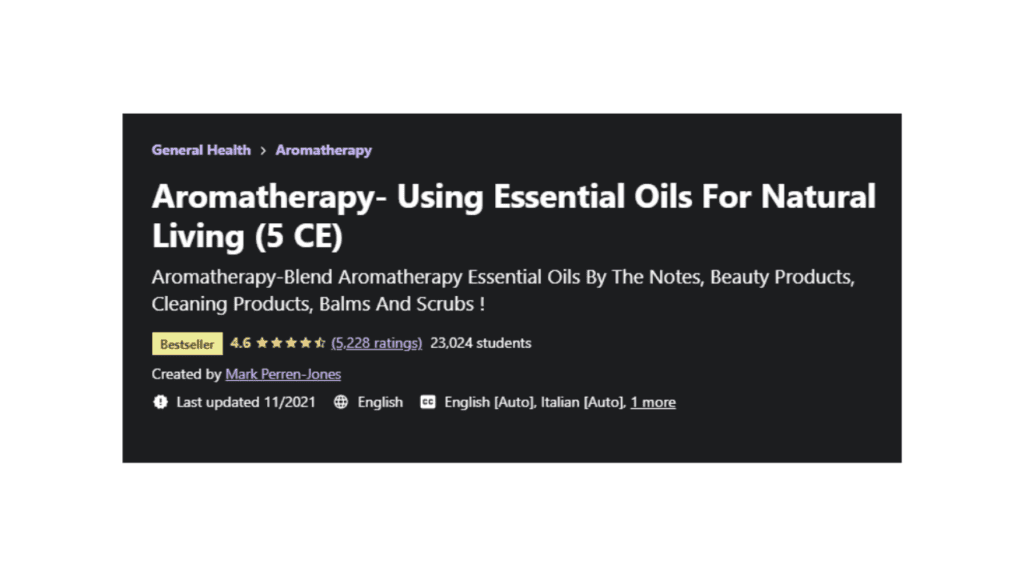 3. Certified Aromatherapy Course 2 – For Health and Wellbeing
For those that are not ready to spend a lot of time learning about aromatherapy, there's this Certified Aromatherapy course for health and wellbeing available on Udemy that has 24 articles and lasts only two hours in total.
The course teaches more about aromatherapy and how essential oils are used. One of the best parts is the lectures about using essential oils around pets, which is a great concern for many aromatherapy users who also have pets in their homes.
Rating: 4.6/5
Price: $89.99
4. Accredited Aromatherapy Diploma 1 – Aromatherapy for All
Another brief but highly intense course in which you'll be able to learn a lot about aromatherapy. This one offers three hours of on-demand video, 23 articles, and 29 downloadable resources. You get a diploma for a finished course in the end, but you're given a 30-day money-back guarantee if you don't like it.
The course starts with a thorough explanation of aromatherapy history, then continues with lectures about mixing essential oils, application for various needs, recipes, massage techniques, and more. One of the most valuable parts is the explanation of the two key application methods – topical and inhalation, which everyone must understand and differ before using aromatherapy.
Rating: 4.6/5
Price: $124.99
5. Clinical Aromatherapy for Health Certificate Course
If you want something provided by a true professional in the field of acupuncture and massage like Mark Perren-Jones, then you've come to the right place. This course has four hours of on-demand video, 32 downloadable resources and will give you a certificate for excellent at the end.
The course teaches about the benefits of aromatherapy and is made for everyone to understand it. It teaches about the right essential oils to help you with skin issues and how to apply them to treat patients or yourself if you have particular problems.
Rating: 4.6/5
Price: $89.99
Wrapping Up
These are the five best aromatherapy and essential oil courses online. We chose these because we think they have something to offer for everyone reading this article. There are some affordable options and some courses that provide outstanding knowledge and practical application of essential oils. Choose what you think is best for you and use the lectures to treat yourself and the people you love.